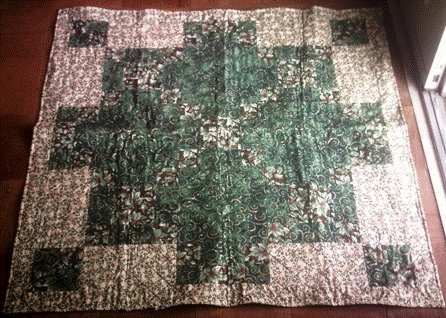 There are times when creativity is exciting, fulfilling, and frustrating. Each year my goal is to create new and different works. I like to grow in my craft with my creative and technical abilities. Quite frankly I never saw myself as the creative type. My mother taught me garment sewing when I was nine. She showed me how to find a pattern, fabric I liked and follow the pattern instructions. Once done, I would produce something that looked like the picture on the pattern. Moreover, that worked. For years, I did exactly that. I made garments for my family and me. When in high school I took a tailoring class (they had home economics then) and made a yellow prom dress for my best friend. I worked at fabric stores and met many sewers and tailors. I love to sew.
A love for sewing led to an addiction to fabric. If I saw a fabric store, I had to stop and just look. Of course, that usually led to coming out of the store with a package. I have all types of fabric, cotton, leather, velour, knits, silk, damask you name it I have it. I absolutely adore the colors, patterns, and textures.
While helping the church ladies (I lovingly call them that) it was suggested that I try quilting. Quilting? I had seen quilts, loved the attention to detail and the artisanship. Quilting? Me? I made garments. Don't old ladies sit around and quilt? (I will always be 27) Therefore, since a church lady said I should do it. (One cannot tell a church lady "No.") I tried it.
Wow. Quilting became a new joy. Starting with a nine block, I discovered that the sky is the creative limit. Quilting has become so much a part of my life. Quilting had a blend of the elements I liked, fabric, mixing of colors, sewing challenges, and creativity.