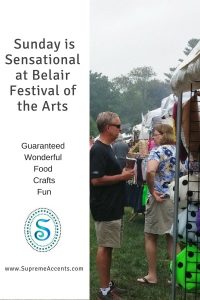 Sunday morning starts early when leaving for the Belair Festival of the Arts. Its 5 AM and we are on our way.  But, not before heading to DD for coffee. I think French Roast is in order for the day.
Belair is located in Harford County Maryland and is a distinct mix of old and new.  There are newer housing and shopping areas which speaks to the new and a downtown area with a remembrance to the old.  We arrive by 6 AM at Shamrock Park located in downtown Belair and the park is a hive of activity. Lots of vendors getting ready for the show.  Although we set the tent up yesterday, we still have a lot to do to get ready.
Our neighbor Connie Granger of Little Pine Creek Potpourri is already  and like the rest of us getting ready for a great day.
After a brief greeting, we both have a lot to do to welcome our guests.  Coffee is nudging me to get going.  Ready to go and as usual the weather is great and so are the people who come to Belair.
The Belair Festival of the arts is wildly popular.  Folks come from near and far to see the special arts and crafts available. We attend other craft shows; but this is one of my favorites.
The entertainment at this show reflects the community.  Belair as a community supports the performing arts and the support can be found at The Belair Festival of the Arts. The entertainment has a blend of community and non-community entertainment. Dancers, bands
and other interesting performing entertainment
adds to the atmosphere of this wonderfully pleasant show.
There are lots and lots of Raven's Fans
And more Ravens Fans
And more Ravens Fans.
I also fond these fabulous leather goods from Dogan Yuvanc are fantastic. I love the detail in the decoration and the clean artistic lines of the handbags. Not a website yet but if you want to learn more about their great work their phone number is 301-257-8005.
We have been coming to this craft show for over 6 years and we look forward to seeing our friends and I am eager to see their reaction to our Harvest Blessings table runner selection.  The table runners come in branch, meadow green and cranberry. What a quick  and easy way to add autumn colors and fall décor. So take a look and let us know what you think here.
Well that is all for now.  See you at the next show.

P.S. Shanna and Esther went Museum hopping in Washington D.C.  They had a great time.
Take a peak at some other great Craft Shows
The Taste of Hamberg-er Festival