Changing the look and feel of my Living room, Dining room, Kitchen and outdoor deck has been on the first page of my Things to Do list for several years now. It has also been on the forth page of my spouse's Things to Do list. After much consideration and many discussions, it was decided to hire a professional to upgrade the deck and to modify the Living Room, Dining Room and Kitchen area.
The challenges were numerous:
The budget was limited.
The deck upgrade was going to consume at least half of the budget.
The Kitchen, Living Room and Dining room area is an open floor plan.
What colors should I use? My spouse's favorite color is blue and my favorite color is red. How does one decorate with those colors without developing a patriotic motif?
Our life style is casual.
My aesthetic is contemporary to modern.
My spouses style is flop down on the sofa and put your feet-up.
How to incorporate my love of handmade items
How to make the room look pulled together and not put together.
I must add crystal. I like a little bling.
Which room should I start first?
How to stay within budget?
Whew! – That seems like a lot to work though. So, I will take it one by one.
So far, here is what I decided to do overall:
Upgrade the deck. This was on the top of the list and the number one priority.
Skip the concept of a formal room designed for visitors only. We like to live in all our rooms and make our friends feel at home.
Create an eclectic look of casual combined with urban chic. Merging both my husband's style and my style was not as daunting as I originally thought.
The color palette for all three rooms is a medium blue, deep red, black and cream with silver (brushed chrome) as the metal.
Upgrade all three rooms by add crown molding and more robust baseboards.
Paint the walls, ceilings, moldings and doors in all three rooms. The walls are converting from yellow to medium blue. The crown molding, ceilings and baseboards color will be cream.
Next was to add appeal to each of the rooms. This is going to be tough with most of the budget spent on professional services. So, I am starting with the kitchen.
How does one upgrade the Kitchen on a minimal budget? To answer this question there was lots of research. This included searching the internet, conversations with friends and relatives; and of course shopping. I found 8 great ways to update the kitchen without a lot of cost. Have a look at these ideas Here Have a look and tell me what you think. I take any and all suggestions.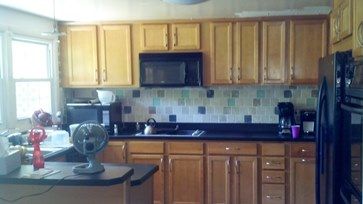 Well, our professional has started, so here we go. Wish me luck.