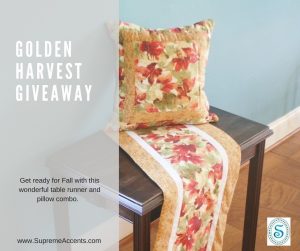 Wow is it Hot!
Summer is in full swing; but, believe it or not Fall is on its way. While eating ice cream and snow balls it is not easy to think about decorating for fall. So, we are going to give you a head start with our Golden Harvest Giveaway from August 9, 2016 to August 30, 2016. This is your chance to win this beautiful handmade table runner with matching pillow.
Dining Room for blending a hutch or dining room table with the living room decor
Family Room – Accent a special chair and TV table
Living Room – Accent your Sofa and coffee table
Wow.
Good Luck
a Rafflecopter giveaway



PS. Find other giveaways here.