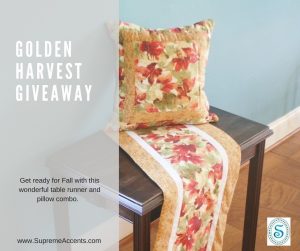 Wow is it Hot!
Summer is in full swing; but, believe it or not, Fall is coming. While eating ice cream and snowballs it is not easy to think about decorating for fall. So, we will give you a head start with our Golden Harvest Giveaway from August 9, 2016, to August 30, 2016. This is your chance to win this beautiful handmade table runner with a matching pillow.
Dining Room for blending a buffet or dining room table with the living room decor
Family Room – Accent a special chair and TV table
Living Room – Accent your Sofa and coffee table
Wow.
Good Luck

PS. Find other giveaways here.