Updated May 3, 2023
Ever been afraid to pick just the right colors for your home? In the back of your mind, you think "Am I making the right choice?" There are lots and lots of ways to pick a color scheme. But what you may want is a color scheme to reflect your personality. A color scheme to make you sigh when you enter your home. A color scheme that is all about you.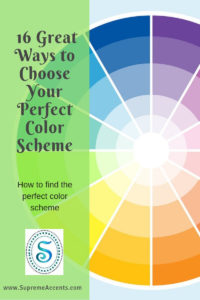 16 Great Ways to Choose Perfect Color Schemes for Your Home
Do not despair. Picking the right combination of colors may seem challenging.  But, choosing a color scheme that is just right for you is fun and easy. Selecting the best color scheme for your décor is as easy as well "apple pie?"
Your Favorite Color
The first thing that comes to mind when thinking about color schemes is your favorite color. So you like to see red? Is green your favorite color? Do you like the mystery of black?  Do you love the cooler colors of blue or the calm of tan? Pick a color or colors you love.
One color is great for a monochromatic look. Love your favorite color by using it as an accent wall or use it all over in a small space like a bathroom.
Tip; try balancing the color with a different color trim or a white or off-white trim.
Your Favorite Places
It is easy to choose a color scheme to reflect the places you love to go to or your favorite place.  How about the many colors of the city? Then brick, steel, marble, and rust may be your perfect color combination.  Or what about that trip to Venice? Think about a favorite place or place. You will be surprised to find your perfect color combination.
Classic Color Combos
Are you a traditionalist? If so then classic color schemes may be the right fit. You simply can't go wrong with black and white. Add an accent color of soft hues or bold bright colors, for example, red, citrus, or gray. What about the classic combination of Red, White, and Blue but with a twist?  Turn Red White and Blue into Cranberry, Tan, and Cerulean. What about blue and yellow? These colors go great with white and neutral hues.
Your Favorite Things
Are there any collectibles or interior accessories in your home you love? Charming vases, frames, and other accessories offer inspiration. Taking their color as a base for your color scheme will solve two problems; choosing a color scheme and incorporating the old stuff into the new design. Take a look around your home for color inspiration. Inspiration can come from anywhere
Tip: Showcase your lovely items in a place everyone will see, such as an open bookcase or a floating shelf.
Your Favorite Work of Art
A favorite work of art, a plate, quilt, or print. You know you love the art piece, so you will love the color scheme.  If some of the colors seem too bold for the walls use a lighter shade.
Colors from a Pillow
Start small and find a pillow you love. Make the pillow a feature of the room. Choose lighter tones for the wall color.
Tip: Color combos featured in pillows, table runners, or upholstered furniture are sure since the combinations were created by design specialists.
Your Closet
Pull your color scheme from the fabric colors of your favorite outfit or scarf. The color scheme of your favorite outfit makes a great color scheme for your room or home. Look in your closet. See what colors your clothes are. Most likely those are the colors you love and most compliment you and reflect your style. If denim is your go-to, consider a navy sofa or if you look (and feel!) happiest in bright yellows, try mixing in a few bright accents with pillows or accessories.
Your Hobby
If gardening is a favorite pass time then draw inspiration from nature, grass, honey bees, and birds. If you like to cook Asian foods, then try drawing colors from the ingredients; rice, sushi, mushrooms, and lemongrass.  If your love is Skiing then what about snow, sky, and sun?
Your Favorite Rug
A rug is a foundation for any space. Pull colors highlighted in a patterned rug to create a unified look.
Tip: For more dimension to your color scheme, use multiple textures.
Shop fabric and craft stores
But stay focused. Remember your mission – Color Inspiration. Find fabrics that contain the colors you love. Do not be distracted by the patterns. The goal is to find your ideal colors.
Let Nature be your Color Palette
Do you like to take walks in nature? Then tones of grass, bark, sky, and stone might be the colors for you. Do you like to spend time at the beach? Then the warm colors of sand and shells and surf may catch your eye. Nature always has a great color palette. You can't go wrong.
Throw Out the Rule Book!
Sometimes it is just necessary to throw out the "rules" of decorating and go with what looks good to you. Remember "Your house, your rules"
Create a "Colors I Love" box.
Create a box and title it "Colors I Love".  Then collect pictures of things you love. There are so many places to find photos. Of course, there are home decorating magazines, brochures, and folders in paint and wallpaper stores. Clothing fashion magazines.  Place the pictures or copies of the pictures in a box.  When the box is ¼ or ½ full remove the collected pictures and sort by color. Wow. A surprise awaits you. The majority of your photos will have certain colors.  Choose from the top three to five colors. These colors are the "Colors you Love"
It's on the Internet.
Search the internet for social media sites like Pinterest or interior design websites and choose from ready color schemes you like and build your design around those colors and hues.
Start a 'room color motivation' Pinterest board and pin rooms or object you like or follow others who seem to have similar interests and taste. You'll start to see trends in things you like.
Or, when you see a photo image you like, cut and paste it into your computer. If you are using these photos to help in choosing a color scheme and want to print it out, make sure you use a color printer.
Use a Color Wheel
.
This is a great classic approach. Use the color wheel to see which colors complement each other. Have a combination of warm and cool colors to have a balanced look. Use the color wheel to choose complementary or contrasting colors. The color wheel shows the full spectrum of color.
Tip: Colors next to each other on the color wheel have less contrast and can create a relaxed or casual feel.
Color Recipe
Use the Rule of 60-30-10. When decorating a space, divide the colors into components of
60 percent of a dominant color. This should be the main color to build your palette. Usually walls and anchor pieces such as flooring, rugs, or large-scale furniture.

30 percent of a secondary color. Vary the tones of this color to keep the room interesting. Think accent furniture, area rugs, wood trim, textiles, etc.

10 percent of an accent color.  This is the place to play around with a variety of color families, patterns, and textures for example blending metals and wood. This is usually wall décor, artwork, and smaller items.
Don't forget to download your Free PDF
In Conclusion
Choosing a color scheme for your home is quick and easy.  These color scheme perfecting tips are some of the color rules designers follow. Remember there are no hard-and-fast rules, but rather guidelines to help with balance, depth, and where to place bold choices to add sparkle to your rooms.  In short, become a color expert in the colors you love. What colors are your favorite? Let us know in the comments below.
Go Make Your Home Beautiful
Love
P.S. What some color inspiration, check out our Pinterest boards. They might be a great place to start.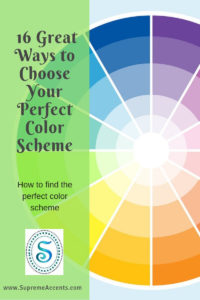 Other Articles you may enjoy
Table Runners - A Quick & Easy Way to Add Color and Style to Any Room
10 Easy Ways to Freshen Your Kitchen Decor