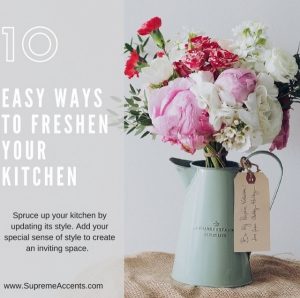 10 Easy Ways to Freshen Your Kitchen Decor
Sprucing up a kitchen by updating its style is an easy way to create or complete a new kitchen. Adding your special sense of style to your kitchen results in an inviting space to gather with friends and family. Knowing which decorative elements to bring into your kitchen helps eliminate confusion and clutter.
Create Your Special Kitchen Decor
Although a cliché, the kitchen is "the heart of any home" because family and guests usually come straight to the kitchen.  Family and friends are usually drawn by the lovely aromas in anticipation of a wonderful meal; but, also to visit and share.  My heart is with the sewing machine, but, Esther is a wonderful cook. She creates splendid dishes. By the way, she makes a great baked corn casserole, email us and she will send the receipt. A lot of time is spent in the kitchen. So, make your kitchen a reflection of your style.
We often are asked about ideas to add personal style to a home. We receive lots of questions about color and design and we love blending colors and patterns to create beautiful designs. There are lots of great ways to get just the right look and feel for your kitchen.  Here are 10 techniques to make your kitchen reflect your special style.
Choose a kitchen theme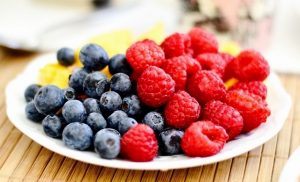 The best décor has a central theme. Your kitchen decorating theme can range from a regional design; for example a Cape Cod Theme to a specific mixed fruit design. After all, it's your home and your rules.  So have some fun and not burden yourself with what others will think.
Choose your kitchen colors
Narrowing down your color palette is sometimes the hardest decision.  There are lots of guidelines to help.  Visit our blog "16 Great Ways to Find the Perfect Color Scheme" for other ideas. Base everything for decorating your kitchen around the theme and color palette you have chosen. You can be as simple or as elaborate as you like.
Budget kitchen makeovers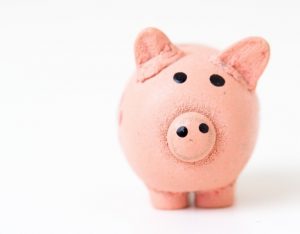 It's easy to get caught up in decorating and go a little overboard. Start by giving yourself a budget, and then stick to it!
Keep it simple
Even the most elaborate décor can be simplified, and cutting back can help you relax when making your selections. Instead of replacing all 8 chairs around the kitchen table just swap out two head chairs. Look around your house for items that can be repurposed or relocated.
Give yourself time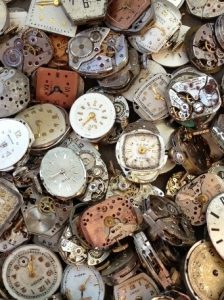 Plan on when you want to finish your update.  If you are having a special event or special guests, it's best to give yourself a head start. Finding the right items for your home takes time. To reduce frustration by giving yourself realistic timelines to achieve your desired effect.
Be open to new ideas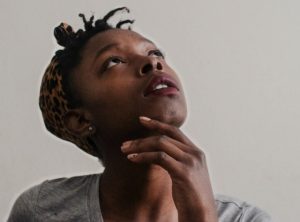 Finding just the right unique items comes with an open mind.  Handmade items are a great way to find pieces you love.  Visit local artists or craft shows to find soon-to-be cherished items.  Ask the vendor if they have an item in a different color or size you would be surprised with the results.
Take the pressure off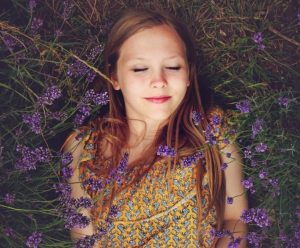 If you find an item you love and it is a shade lighter or darker, it is OK.
Select colorful kitchen linens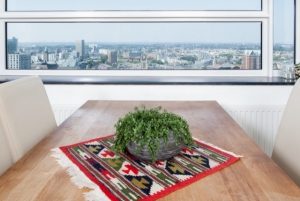 Kitchen linens include your tablecloths, table runners and cloth napkins and more. When decorating the kitchen, creating a beautiful table isn't just for dinner parties. Make each meal special by adorning your table with style every day.
Tablecloths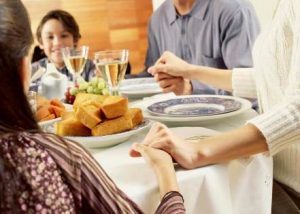 Protect a table from the wear and tear of everyday life. Table clothes protect glass top tables from finger prints, or a wood table from scratches. The table cloth is one of the largest fabric areas in your kitchen, the texture, color and design of your tablecloth makes a big style statement in your kitchen and dining space.
Table runners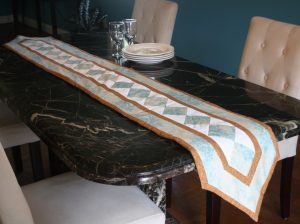 Table Runners are narrower than tablecloths, covering only the center strip of the table. Table runners are a fun way to add style to your kitchen while protecting your table from the decorations and serving dishes set on it. Invest in several table runners to match holidays and seasons or to just change things up every once in a while. table runners can be inspiration for other kitchen decorating ideas, so don't be afraid to try something new.
Placemats
Placemats protect your table and helps to avoid messes. Placemats are a quick way to dress up your table just for meal time. Placemats can be used alone, in conjunction with table runners or on top of table cloths. The choice is yours. Be creative, mix and match placemats and napkins or table runners.
Cloth napkins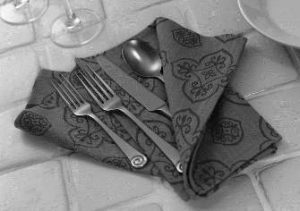 Cloth napkins add more than a touch of elegance to a meal. They can also add color and fun patterns and are appropriate for any occasion. Cotton napkins are environmentally sound, stylish and fun. They are easy to clean and store and always make a meal feel special. You will be surprised at how much cloth napkins cuts paper product costs.
Kitchen towels
Kitchen towels are a must for any kitchen, and they provide a perfect way to add flair to your kitchen without making expensive changes. Play up the colors in your kitchen by adding matching or complementary kitchen towels. Since kitchen towels are the smaller fabrics in your kitchen, it's easier to try new designs without feeling overwhelmed by a new color or pattern. Like table runners, kitchen towels are easy and fun to periodically change according to holiday, season or mood.
Consider Chair Pads and Covers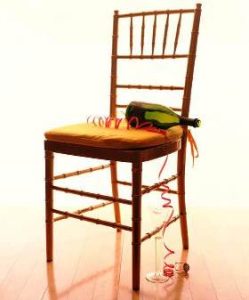 Linens make meals special, but chair pads make them comfortable. Try chair pads on chairs and stools or choose more traditional tie-style kitchen chair cushions. Chair Covers on the top of a chair can add color and décor to your kitchen. Chair covers also helps protect your fabric chairs from stains. For easy cleaning just remove and place them in the washer.
Add Kitchen Whimsy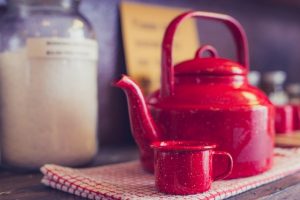 No kitchen is complete without the little décor accessories to put your stamp on the most used room in the house. Don't forget things like paper towel holders, soap dispensers and spoon rests. Serving trays, centerpieces, matching sugar bowl, creamer, salt and pepper shakers and butter dish are just a few of the kitchen décor accessories you could use to complete the look and feel of your kitchen.
Supreme Accents offers an array of home décor items for your kitchen. Take a look around and see if there is anything to fit your design style. Don't for get to keep coming back. New items are added all the time. Our 90 day money back guarantee gives you plenty of time to make sure you have just the right fit for your homes décor.
Adding your special spice to your kitchen can be a great adventure.  Just stay focused on what makes you happy. Think about adding a special touch for
The holidays – this is a great time to spruce up your décor. From Valentine's day to Christmas and all the holidays in between

The seasons – whether you spring clean or just want to add warmth for fall, celebrate the beauty of the seasons by adding seasonal charm.

Coordinate home décor – decorating the kitchen to coordinate with your existing or future décor changes creates harmony.
Your kitchen can reflect the heart of your home in so many beautiful and practical ways. It is a place where friends and family gather, where creativity flows and the kids do homework. The kitchen is a room where tons of time is spent so make this room a wonderful gathering place. We love to help you create your great space. Take some time to look through our selection to find just the right design or comment below on ideas you may have for making the kitchen twinkle.
Go. Make your home beautiful

Fun Fact – A bit more on cloth napkins
Back in the good old days, before TV, families used cloth napkins at every meal. Napkin rings were originally used to identify the napkins of a household between weekly wash days. The napkin ring became a sort of sanitary device to save each person`s napkin so it could be used several times. This cut down on the washing and ironing.
The napkin ring gained favor with the Victorians. Each family member had their own special napkin ring to prevent a mix-up. At the end of every meal, the napkins were ringed and laid aside for when needed next. So, give everyone their favorite. Dads could be a figure of a favorite sport or interest. Mom could have a favorite flower or goddess. The kids would love a figure of a pet or musical instrument.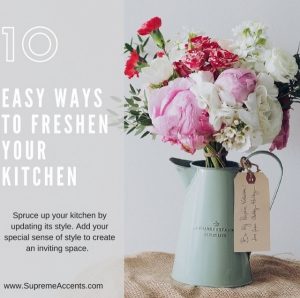 Other Articles you may enjoy
Table Runners - A Quick & Easy Way to Add Color and Style to Any Room
12 Great Ways to Choose Your Perfect Color Scheme
17 Great Tips to Arrange Pillows Like a Designer