Get your Sizzle at the Hamburger Festival
Although this was our first year at The Taste of Hamburg-er Festival the festival has been alive for 13 years. The festival lives in Hamburg Pennsylvania.  It is a quaint and charming town with a view of the mountains in the background.  Hamburg is 200 years old and is populated with brick houses and lots of front porches.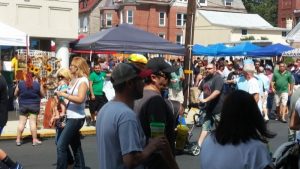 We were in a great location; and, the weather was fabulous.  The sky was clear, with low humidity, and an occasional gentle breeze. One could not ask for a better day.
Esther, the coffee, and I got there around 7 A.M. The coffee set our booth and we were ready when the festival opened. Our booth was located on the corner of Third and State Streets under the portico. Richard of Pennsylvania Soy Candles was our neighbor and as always it was great to see him.  He has wonderful soy candles, lotions, and goat milk soap.  You can visit Pennsylvania Soy Candles.
The festival started at 10 AM and so did the crowd.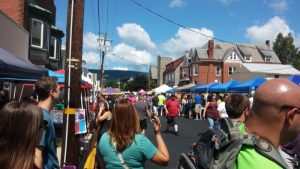 Everyone was excited and there to have a lot of fun.
There were burgers everywhere. There were Pretzel burgers, Crabby burgers, Jalapeno burgers, Surf and Turf burgers, and reliable cheeseburgers. Of course, there was my favorite, a good old fashion burger with lettuce, tomato, and mayonnaise
There were smoothies (Esther loves smoothies), Fudge, Ice cream, French fried potatoes of all kinds, homemade baked goods, and lots more. There were artisans and crafters with such items as jewelry, painted glass bowls and stemware, wreathes, painted gourds, wood crafters, and lots of other vendors.
Hamburgers and hamburger lovers were everywhere. There were hamburger contests for professionals and amateurs. Judging was intense. Burger lovers could vote for their favorite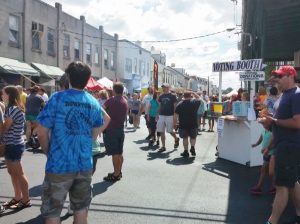 There was mustard and ketchup to put on the hamburgers.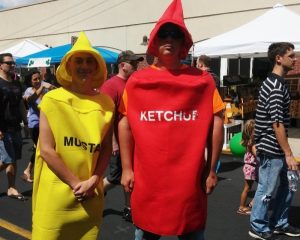 There were hotdog lovers too.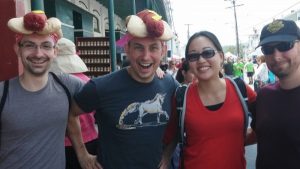 There were hamburger hats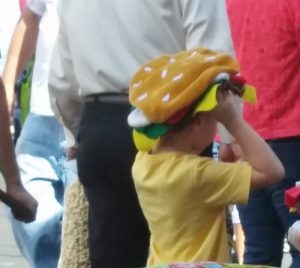 And hamburger hats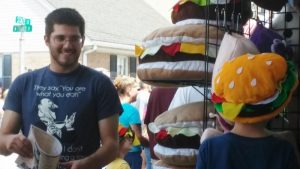 And hamburger hats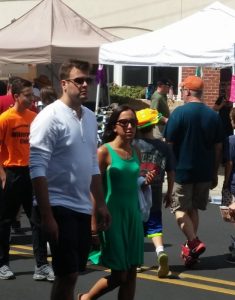 And of course our hamburger pillows.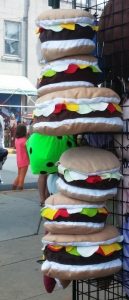 We had great fun and made lots of new friends.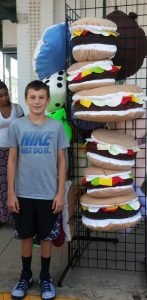 The boys loved our hamburger pillows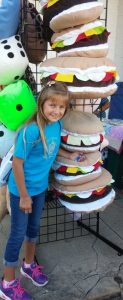 Girls loved our hamburger pillows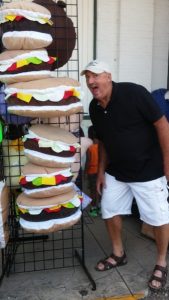 Adults too
Folks continued to come to the festival to have a good time.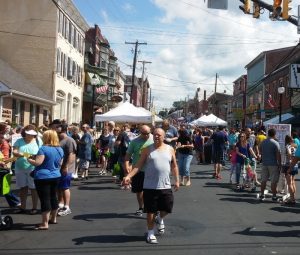 There was great entertainment. Leon gave the bands a thumbs-up. If you love great bands, love hamburgers, and love crafts then The Taste of Hamburg-er Festival is it. Give the Hamburger Festival a try, I guarantee you will enjoy yourself and have a lot of fun.

P.S. Even the Boy Scouts had a hamburger booth at the festival.
Take a peek at some other great Craft Shows
West Virginia Mountain Heritage Show