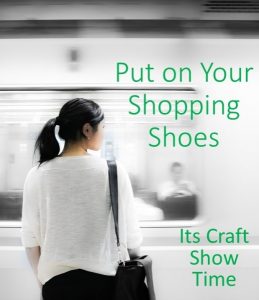 Looking for fresh ideas to decorate your home? One of the things I like about the New Year is going to craft shows because it's fun to discover what new pieces have been created.  My first show of the year was the Craftsman's Classic Craft Show in Richmond Virginia.  This is our first show of the season.  After the snow getting out of the studio is a welcome change.
This show also lets us know if you are going to like our new creations. The weather was great and the creativity was marvelous.  After setting up and settling in I can look around the show at the other creations of my fellow crafters.
One of my artist neighbors Megan Austin creates and has a beautiful signature necklace collection. For a broach lover like me, necklaces do not usually catch my attention. However, these necklaces are wonderful. So if you are looking for a new direction to your jewelry collection this might be what you are looking for.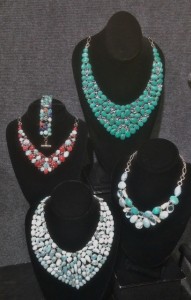 These necklaces are wonderful. If you want to see more of Megan's work you can find her at MD Designs
Imagine the delight of to looking across the aisle during the entire show and gazing at the brilliant creations of Nancy Zethof.  Nancy creates hand-painted silk scarfs, each silk scarf is not only handmade they are one of a kind and signed by Nancy.
Nancy was a lot of fun during the show. Here is an example of her vision. Scarfs are great to add punch to your existing wardrobe.  They also add a little versatility to the crazy spring weather.
One of the fun things about craft shows is each has its personality and fun. For this show, it was my friend Paul Beverly. Paul decided to amuse Esther the entire show. So every chance he got Paul would come and tell Esther a joke. Paul would keep doing that until she laughed. It was a lot of fun watching Esther try to not laugh and Paul trying to make her laugh.
Paul Beverly is a leather artist. He and his colleague, Sandy Dyche, make leather art. The attention to detail is fabulous. The size of the pieces ranges from large to tiny pieces. He was a lot of fun.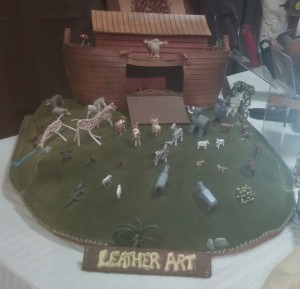 Here is Noah's Ark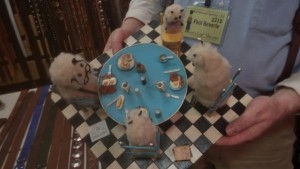 A Family of Lambs
Leather Catapult
And my favorite is his interpretation of Picasso in Leather. Here is where you can see more of Paul Beverly's talent.
What do you think of Paul's designs?
Well, those are the highlights of the 2016 Craftsman's Classic Spring Richmond show.  Our next craft show is in Oaks Pennsylvania. I look forward to seeing what is in store. If you are in the area, drop by.  If not I will post a new adventure soon.
Go Make your home beautiful
Love
Deb