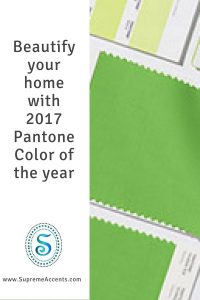 Beautify your home with the 2017 Pantone Color of the year
Love the Pantone Color of the Year for 2017 Greenery.
Pantone describes the color as "Nature's neutral, PANTONE Greenery is a versatile "trans-seasonal" shade that lends itself to many color combinations.   Greenery is a fresh and zesty yellow-green shade that evokes the first days of spring when nature's greens revive, restore and renew."
I agree wholeheartedly. This glorious color is both soft and rich. Greenery blends with almost any color combination including my favorite color red. If you adore green then this beautiful color complements your current color palette. Greenery blends with any of the greens currently in your décor.
If Greenery is a color you might like to add to your décor here is how to make it work for you. Greenery is reminiscent of succulent plants like Aloe Vera and cactus. GREENERY blends greatly with
Earthly Tones – consider Greenery as a new neutral to your color pallet
Bright colors – This versatile color will blend well without dimming your current color pallet
Deeper shades – Greenery will add a light contrast to highlight existing colors
Pastels – This is the wonderful color that will add depth to the color pallet
This delightful color also blends with most styles of home décor.  If your home décor style is
Traditional – One of the most popular home decor styles is a prime candidate for this comfortable and elegant color. The traditional style of warm colors is a great background for this delicious color.
Transitional – Greenery beautifully transitions with the clean, neutral colors of this design style. Greenery adds a spark of color without being bossy.
Urban Chic – This color works well with the simplistic, minimalistic elements of this décor. In Urban Chic design this color is great as accent pillows and accessories.
Casual Décor – Greenery is ideal for the homey, warm, comfortable, and inviting aura of this Décor Style. What better tone of color to create a truly casual room?
Contemporary – Of course this color lends itself to contemporary design.  Greenery is the color of right now.
Shabby Chic – Greenery is wonderful well with the pastel palettes and sweet patterns of Shabby Chic design. This color is a complement to the light and airy with hues of barely-there blue, green, lilac, or pink.
Mid-Century Modern – This color also works well with the design elements of Mid Century design. This color blends well with the avocados, oranges, yellows, and browns of this design style.
Country – Greenery is a great color for blending with the natural tones used in country style. It blends well with the colors of wood, rock, and other organic materials.
So if you want to include this color with your color scheme or décor it will work out fine. This is a great color for any type of home décor accessories.  Accent Pillows, table toppers, quilts, and wall hangings.  Adding this color to your home will add beauty and grace.
Go, Make your home beautiful.
Regards

P.S. Greenery is a great color for the nursery too.
Other Articles you may enjoy
Table Runners - A Quick & Easy Way to Add Color and Style to Any Room
12 Great Ways to Choose Your Perfect Color Scheme
10 Easy Ways to Freshen Your Kitchen Decor